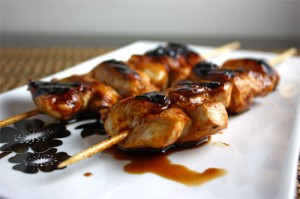 Preparation time : 30 mins. | Serves 4 persons
This Yakitori Recipe is taken from Japanese Cuisine and has bit spicy, sour and sweet taste because of its special sauce. The sauce is prepared with wasabi paste which has spicy flavor and when combine with soya sauce and brown sugar its flavor enhances and tastes delicious with the Yakitori.
Ingredients:
For Chicken:
1 lb boneless chicken cubes
¼ cup light soya sauce
1 tbsp fresh ginger (minced)
½ tbsp fresh garlic (minced)
1 tsp ground black pepper
1 tbsp brown sugar
¼ tsp salt or to taste
For Sauce:
1 tsp wasabi paste
¼ cup dark soya sauce
1 tbsp brown sugar
1 tbsp olive oil
1 tbsp lemon juice
Salt (optional)
Procedure:
1. Marinate chicken cubes with the ingredients mentioned for chicken and leave for 15 mins.
2. Heat grill pan and lightly grease it with oil.
3. Insert marinated chicken cubes into the skewers and then place the skewers onto the greased preheated grill pan.
4. Cook chicken till it is completely cooked and get grill marks on both sides.
5. To prepare sauce combine all the ingredients mentioned for sauce and adjust level of sugar and salt according to your taste.
6. Place the chicken with skewers onto the serving platter and drizzle the prepared sauce over the chicken and serve immediately.
photo source : 1