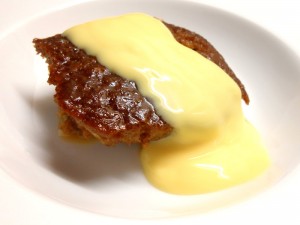 Preparation time : 45 mins. | Serves 4-6 persons
Malva Pudding Recipe is a famous South African dessert. Its basically has a cake like texture rather than typical puddings. It is quite moist and tasty because of extra topping of sweet creamy sauce which enhances its flavor.
Ingredients:
1½ cup all-purpose flour
1 tsp baking soda
1 tsp baking powder
Pinch of salt
1 egg
1 cup caster sugar
1 tbsp apricot jam
1 tbsp butter (melted)
1 tsp apple cider vinegar
1 cup milk
For Topping:
1 cup cream
1 cup sugar
4 tbsp butter
½ cup water
1 tsp vanilla essence
Procedure:
1. Sift together dry ingredients including flour, salt, baking powder and baking soda.
2. In a mixing bowl cream together egg and sugar using beater.
3. Whisk together apricot jam, butter and vinegar and make smooth paste.
4. Add this mixture to egg mixture and mix well.
5. Now add dry mixture and milk alternatively to the egg mixture and make uniform batter.
6. Take a grease baking pan and pour the batter in it. Bake for 30 mins. in preheated oven at 350 degrees F or until knife inserted comes out clean.
7. Meanwhile prepare the topping for the pudding by mixing together cream, sugar, butter, water and vanilla. Cook for 3-5 mins. until all ingredients combine well and then remove from heat.
8. When the pudding is ready take it out from oven and immediately pour the prepared topping and leave it till the topping absorbs.
9. Serve the delicious Malva Pudding with scoop of ice cream or any custard sauce.
photo source : 1