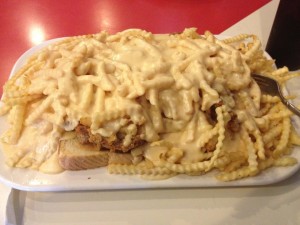 Preparation time : 20 mins. | Serves 1 person
Horseshoe Sandwich is an open face sandwich which is prepared in a simple pattern. The speciality of this sandwich is its unique cheese sauce and the style of presentation. You only need bread slices, cooked meat, french fries and the cheese sauce to assemble this sandwich.
Ingredients:
For Cheese Sauce:
2 egg yolk
½ cup chicken broth
2 tbsp butter
3 cups grated sharp cheddar cheese
1 tsp Worcestershire sauce
¼ tsp dry mustard
½ tsp salt
Pinch of cayenne pepper
For Assembling:
2 bread slices
Any kind of cooked meat (corned beef, grilled or boiled chicken, turkey, etc.)
Pinch of paprika
French Fries (Crispy and fresh)
Procedure:
1. To prepare cheese sauce, whisk together broth and egg yolks and set aside.
2. Melt together cheese and butter over boiling water.
3. When the cheese mixture melts completely add Worcestershire sauce, dry mustard, salt and cayenne pepper and cook for 3-5 mins. Stir constantly to make smooth and uniform sauce.
4. After that add yolk mixture and stir well to mix and keep mixture hot but don't let it bubble. When the mixture gets thick consistency like white sauce, remove the pan from boiling water and set aside.
5. Toast your bread slices, place them onto the serving platter, stuff cooked meat on the slices, add some fries and then top with the prepared cheese sauce. Sprinkle a pinch of cayenne pepper on top and serve immediately.
photo source : 1