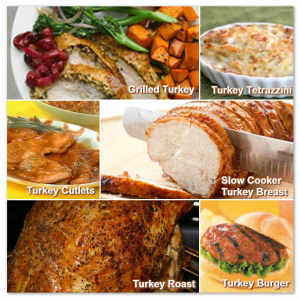 This collection of Easy Turkey Recipes For Thanksgiving consists of trendy turkey foods in the season. Usually, people prefer to have some food like turkey roast, therefore, we bring varieties of turkey roast with some variations and add a few different turkey recipes.
Easy and simple turkey breast recipe with vegetables. It is prepared in a slow cooker with very light flavors of vegetables, chicken stock, and onion soup mix. Visit the recipe page to learn step by step this recipe.
Another simple roast recipe of turkey prepared by the baking method. It is mostly used in making sandwiches.
Delicious grilled turkey with the wonderful flavor of allspice, almonds, and lemon. This recipe is prepared in a grill oven which you may replace with a charcoal grill and get the awesome aroma of bbq turkey.
This one is a quick and easy turkey recipe in which boneless turkey strips are served with sweet and spicy sauce.
This is a kind of turkey casserole that is prepared in a slightly different way. First turkey and mushroom are cooked with the creamy white sauce, then broil for a few minutes with noodles and parmesan cheese layers in a casserole dish.
To make this turkey burger, patties of ground turkey are prepared on the grill pan and then assembled with bun, lettuce leaves, tomato slices, and ketchup.