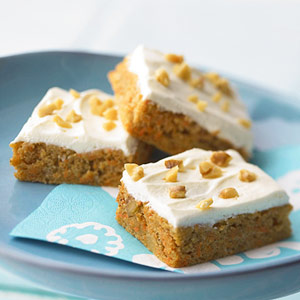 Preparation time : 45 min. | Serves 3-4 dozen squares
These pumpkin squares are one of a famous Halloween recipes so you can decorate it to make smiley pumpkin face using carrot pieces or nuts.
Ingredients:
2 cup flour
½ tsp ground ginger
¼ tsp ground cloves
¼ tsp ground nutmeg
2 tsp baking powder
1 tsp baking soda
1 cup sugar
1/3 cup margarine (softened)
½ cup brown sugar
2 egg
2 large egg whites
15 oz pumpkin pie filling
1 cup carrot (finely shredded)
For Topping:
4 oz cream cheese (softened)
¼ cup sugar
½ cup whipped cream
Procedure:
1. Pre-heat oven to 350.
2. Sift together dry ingredients for filling including flour, ground ginger, cloves, nutmeg, baking powder and baking soda.
3. In a mixing bowl, beat butter, sugar and brown sugar until butter mixes well with the sugar.
4. Now alternately add eggs and egg whites to the sugar mixture and beat at high speed until well blended.
5. Add pumpkin pie filling and carrots to the mixture and fold these ingredients using spatula.
6. Take a square pan, place a parchment sheet or butter paper over it and spread the batter over the whole pan evenly.
7. Place the pan in preheated oven for 25-30 min until become done you can check it using cake tester.
8. Meanwhile prepare frosting for the Pumpkin Square for that beat well cream cheese and sugar and then fold it with the whipped cream.
9. When the pumpkin square becomes ready take it out from oven and cool it to room temperature. Spread the prepared cream cheese topping over the square, sprinkle some chopped nuts and then place in fridge to chill.
10. When it sets properly cut into small squares and serve.
photo source : 1