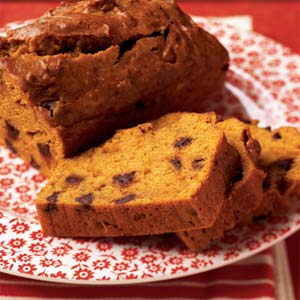 Preparation time : 2 hrs. | Serves 1 medium loaf
This pumpkin bread recipe is more or less similar to other pumpkin breads but it only differs in its cooking process, this wonderful bread is prepared in crockpot. Though this bread takes longer time but and is softer and moist then baked pumpkin breads.
Ingredients:
½ cup all-purpose flour
¾ tsp baking powder
¼ tsp ground ginger
1/8 tsp ground cloves
1/8 tsp ground nutmeg
¼ cup brown sugar
1 tbsp vegetable oil
1 egg
¼ cup frozen pumpkin
2 tbsp raisins
Procedure:
1. Sift together dry ingredients including flour, baking powder, ground ginger, nutmeg and cloves.
2. In a mixing bowl beat together sugar and oil for 2-3 min at high speed.
3. Now add egg and beat until become fluffy batter.
4. Add pumpkin and raisins and then fold them with the batter.
5. After that gradually add dry mixture and fold it carefully so that lumps would not form.
6. Pour the batter into the greased and floured canning jars and cover it tightly with greased foil.
7. Take suitable size of crumpled foil sheet and place it at the base of crockpot, put the jar over the crumpled sheet and cover the pot. Cook on high for 90-120 min until cake/bread test is done with success.
8. Then take out the jar from the pot and let it cool to room temperature carefully take out the bread from the jar and then cut into slices.
photo source : 1