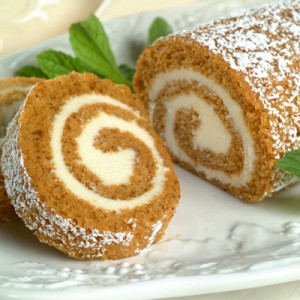 Preparation time : 20 min. + 30 min chill time| Serves 1 medium size roll
This is another pumpkin recipe which can be easily prepared at home. This pumpkin roll recipe is prepared with cream cheese stuffing, you may also mix whipped cream with the cream cheese but in that case you will have to reduce the quantity of cheese to half.
Ingredients:
For Sponge:
3 eggs
1 cup sugar
¾ cup pumpkin
1 tsp lemon juice
¾ cup all-purpose flour
1 tsp baking powder
½ tsp salt
½ tsp nutmeg
1 tsp ginger
2 tsp cinnamon
Icing sugar for topping
For Filling:
1 cup caster sugar
8 oz cream cheese (softened)
4 tbsp butter
1 tsp vanilla essence
Procedure:
1. Preheat oven to 375 F.
2. In a mixing bowl, beat eggs and sugar until become fluffy.
3. Add pumpkin and lemon juice to the egg mixture and mix well.
4. Sift together flour, salt, baking powder, cinnamon, ginger and nutmeg.
5. Now combine dry mixture to the pumpkin mixture and fold them nicely using spatula.
6. Grease and dust the cookie sheet with flour and pour the prepared batter onto the tray. Place the tray in preheated oven for 12-15 min until become done.
7. Meanwhile prepare filling for the roll, for that beat cream cheese with butter and sugar until well blended and then mix with vanilla essence.
8. When the sponge becomes ready cool it to room temperature at wire rack and then spread the prepared filling over the whole sponge.
9. Then starts rolling the sponge from one side to other and in the end dust the whole roll with icing sugar from every side. Place the roll in fridge to chill for 30 min. and then cut into slices.
photo source : 1