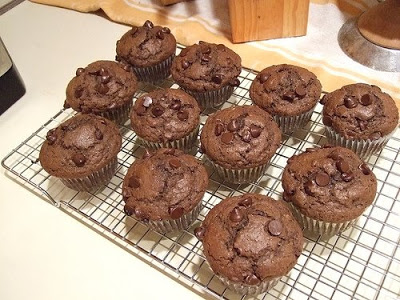 Preparation time : 40 mins | Serves 10 persons
A chocolate muffins is just like chocolate cake or cup cakes. The only difference is in shape and the appearance. Although many people can still find it difficult to differentiate between the two. In this recipe of muffins chocolate chips are used instead of using a solid chocolate bar. Coco powder is still used for making these as it gives a nice color and taste to muffin. To make good muffins chocolate chip, always get the best and finest quality of chocolate chips and coco powder as these two ingredients will mostly depend on how your chocolate muffins look and taste like.


Ingredients:

6 eggs
225 gm plain flour
25 gm coco powder
250 gm butter (softened)
250 gm sugar
1 tsp baking powder
1/2 cup chocolate chip
Cooking Instructions:

1. In a mixing bowl, beat butter so that it becomes smooth
2. Then beat it with sugar until sugar completely mixes in the butter. It would take 8-10 minutes for these two to be mixed thoroughly.
3.After that add eggs one by one and beat well enough for at least five minutes to make a smooth paste.
4. Now its time to add dry ingredients ; coco powder, baking powder, flour and mix in the batter using a spatula and remove all the lumps if present in your batter otherwise it would make your muffins hard after baking. Remember, always mix batter using a flat spatula as this ensures that no portion of batter is left untouched, as in the case of curved spatulas.
5. In the end, mix chocolate chip in the batter, grease the muffin tray using butter and then pour the batter in it. Put the muffins tray in the preheated oven for 20-25 minutes at 200 degree centigrade. Serve the delicious muffins chocolate chip with additional chocolate sauce topping.