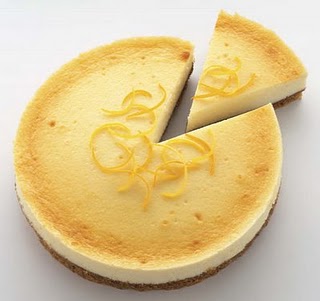 Preparation time : 20 mins. + 1 hr. Baking time | Serves 8 persons
This lemon cheese cake recipe is prepared by baking because eggs and flour are used in the batter. If you want to prepare no bake lemon cheese cake then you will have to eliminate flour and egg from the recipe and add whipped cream instead of these two ingredients.
Ingredients:
For Crust:
1 cup graham cracker crumbs
2 tbsp butter (melted)
For Filling:
2 cups creamed cottage cheese
2 egg whites
2 whole eggs
1/2 cup evaporated milk
1/2 cup caster sugar
1 tbsp lemon rind (grated)
1/3 cup fresh lemon juice
1/4 cup pastry flour
1 tsp vanilla extract
Lemon slices for garnishing
Procedure:
1. Preheat the oven to 300 degrees F.
2. Combine graham cracker crumbs and butter thoroughly and then transfer them onto the spring formed pan and press tightly to make 1 inch thick base. Place the pan in fridge for 15-20 mins until it sets completely.
3. Now in a mixing bowl combine cottage cheese, egg whites, eggs, milk, sugar, lemon rind, lemon juice and vanilla and beat them together to make smooth paste.
4. After that add flour and beat on slow speed so that no lumps of flour would remain in the batter.
5. Now pour the batter onto the prepared crust and place the pan in preheated oven for 1 hr. or until the cake would has been done. You can check it by inserting the knife edge in the center if it comes out clean then the cake is ready to take out from oven.
6. Chill the delicious lemon cheese cake for just 30 mins. and sprinkle some lemon rind on top before serving.
photo source : 1