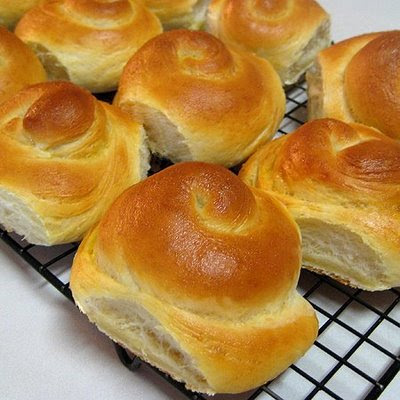 Preparation time : 40 mins. + 2 hrs. Rising time | Serves 24 rolls
These
potato rolls
are usually available at many bakery shops, but now you can make it at home by following this recipe and enjoy delicious potato puff bread with tea.
Ingredients:
7 cups all-purpose flour
1/2 cup sugar
1 1/2 tbsp instant yeast
1 teaspoon salt
2 cups milk
2/3 cup butter or margarine
1/2 cup water
1 cup mashed potatoes
2 eggs
Procedure:
1. At first combine all the dry ingredients including flour, sugar, yeast and salt.
2. In a saucepan, mix milk, butter and water and heat the mixture so that it would not get boil.
3. After that remove the pan from stove and add it to dry mixture and mix them together using hands.
4. Now add gradually mashed potatoes and eggs and mix until a stiff dough would form. Place the dough in greased bowl, cover and put it into fridge for overnight.
5. After that divide the dough into two halves with greased hands, make 12 balls from each half portion. Then roll each ball in length wise direction to form rope, curl the rope to form a knot.
6. Now place them on a greased baking pan keeping distance between each roll. Cover the pan and leave it for at least 60 mins until they rise to double, then bake at 375 degrees F for 25-30 minutes.