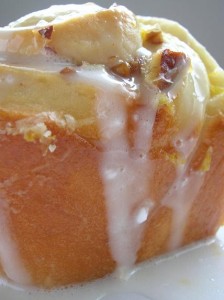 Preparation time : 50 min + 2 hrs. Resting time | Serves 10 rolls
This pecan rolls recipe is prepared with zest orange flavor and are taste like any fruit bun. The preparation of the rolls is similar to that of buns except addition of orange zest and chopped pecans result in different flavor.
Ingredients:
2¼ tsp instant yeast
¾ cup lukewarm water
½ cup milk
2 tbsp sugar
1 tsp salt
1 tbsp shortening
Zest of 1 small orange
¾ cup chopped pecans
3 cup bread flour or as required
Procedure:
1. Dissolve yeast in water and let it stand for 5-10 min until bubbles appear on the surface.
2. In a mixing bowl combine milk, sugar, salt, butter and yeast mixture and make uniform batter.
3. Add orange zest and chopped pecans and mix well.
4. Now start adding flour to the batter until soft dough would form, make sure the dough should not get sticky. It would take little bit more effort to make it smooth but to make perfect smooth rolls it is necessary to prepare soft dough.
5. Now cover the dough with a plastic sheet and leave it in warm until it gets double in size. It would take 1-2 hrs.
6. After that punch down the dough onto the floured surface and knead it gently for 5 mins, then divide the dough into 10 equal pieces. Round each piece to make ball shape and then place each of them on a greased baking sheet. Cover the sheet and let the buns rise again for 45 min.
7. Meanwhile preheat oven to 400 degrees F and then bake for 20 min until become golden brown from top and baked properly from inside.
8. After that cool them on a wire rack and top with sugar frosting or serve it as it is with tea.
photo source : 1