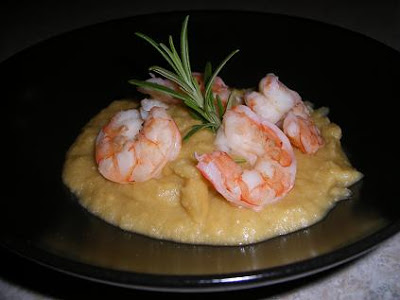 Preparation time : 30 mins | Served 4 persons

This healthy shrimp recipe is prepared with chick pea and red onion sauce. You may use hummus sauce instead of chick pea puree to give it more flavor. This shrimp recipe is no more spicy like other shrimp recipes but tastes great with chick peas. For more shrimp recipes, refer to the book The Ultimate Shrimp Book which contains more than 650 exciting seafood recipes.
Ingredients:
6 cup cooked chickpeas
2 tbsp hot water
1/8 tsp ground cumin
1 tbsp lemon juice
4 tbsp olive oil
1 red onion (sliced)
1 clove garlic, thinly sliced
Salt to taste
Freshly ground black pepper to taste
12 large shrimp
Procedure:
1. In the food processor, add 4 cup of cooked chickpeas, hot water, cumin, lemon juice and 1 tbsp of the olive oil. Process all these ingredients together to make a smooth paste.
2. Take a frying pan warm 1 tbsp of olive oil and then add onion and garlic, and saute for 2 minutes.
3. After that add the chickpea puree and cook for further 3 minutes.
4. In another frying pan, fry shrimps for just 2 minutes in remaining olive oil.
5. In the assemble the all of them in a beautiful serving platter. Place about 1/2 cup of the prepared chickpeas sauce onto the center of plate and place few cooked shrimps on top of the sauce.