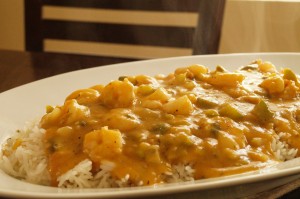 Preparation time : 40 mins. (approx.) | Serves 4 persons
Shrimp Etouffee Recipe is taken from American cuisine mainly belongs to Cajun style. Etouffee is referred to as smooth stew which is prepared with shellfish like shrimp, crab, etc. The etouffee is served with steamed rice and some fresh herbs topping like, parsley, cilantro, spring onion, etc.
Ingredients:
2 tbsp olive oil
1 tsp garlic (minced)
1½ lb shrimp (peeled and deveined)
2 onions (chopped)
2 stalks celery (chopped)
2 tbsp flour
2½ cup chicken broth
3 tbsp lemon juice
¼ tsp cayenne pepper or to taste
2 tsp tabasco sauce
¼ cup green onions (chopped)
¼ cup fresh parsley
Procedure:
1. Take a heavy bottom stock pot, heat oil and saute garlic in it for 1-2 mins.
2. Add shrimps and cook for about 2 mins. then take it out from the oil.
3. Now add onion and celery and cook to make it soft for just 5-8 mins.
4. Add flour and stir well then pour chicken broth and mix well. Let the mixture boil over medium heat.
5. After that add lemon juice, cayenne and tabasco sauce and simmer for 10-15 mins. until the mixture gets thick
6. Then add shrimp and cook for about 2-3 mins. and then remove the pot from heat.
7. Serve the hot shrimp etouffee over boiled or steamed rice with topping of parsley and green onion.
photo source : 1