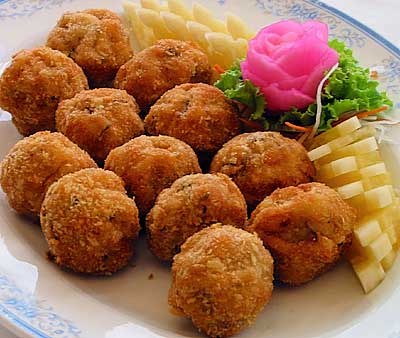 Preparation time : 20 mins. | Serves 15-20 balls
These
shrimp balls
are one of easy snack to prepare at home. These balls are usually serves with ketchup or chili garlic sauce but I personally like mayo and ketchup sauce with these shrimp balls.
500 gm shrimp (Cleaned and minced)
1 medium size onion (finely chopped)
1 tsp ginger paste
1 tsp garlic paste
2 tbsp coriander leaves (finely chopped)
½ cup flour
Salt to taste
¼ cup cornflour
1 tbsp soya sauce
1 tsp chili sauce
¼ tsp black pepper
Oil for deep frying
1 cup bread crumbs (or as required)
1 egg (beaten)

Procedure:
1. In a bowl prepare a mixture for balls by mixing shrimps, onion, ginger garlic paste coriander leaves, flour, corn flour, soya sauce, chili sauce, black pepper and salt.
2. Now make balls of lemon size, dip each of them in beaten egg and then coat with crumbs.
3. Heat oil for deep frying and fry these balls in batches until become golden brown in color.