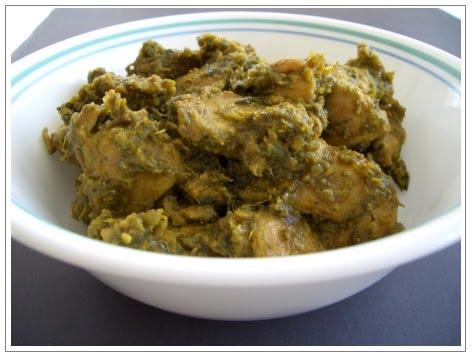 Preparation time : 35 mins. | Serves 2 persons
This coriander chicken recipe is quite similar to green chicken in looks but the recipe is far different. In this recipe no more green chilies are used except black pepper which combines with the yogurt and coriander to give delicious flavor to this chicken. This coriander chicken can be prepared by either grilling or baking, both of these methods are given below.

Ingredients:
500 gm boneless chicken
1/2 cup chopped coriander
1 tbsp black pepper (crushed)
4 garlic(minced)
2 tsp fish sauce
1 tbsp lime juice
1/4 cup yogurt
Salt to taste

Procedure:
1. In a blender, make a smooth paste of coriander, yogurt and garlic.
2. Marinate chicken in yogurt mixture, salt, fish sauce, lime juice and black pepper. Leave it for 15 minutes.
3. You may either grilled this marinated chicken or bake in oven. For making grill coriander chicken you have to grease the grill pan with 1-2 tbsp of oil and heat, after that spread the marinated chicken pieces onto the preheated grill and cook for 5-8 mins until the water of chicken would have been dried and become slightly golden from both sides.
4. To prepare baked coriander chicken, add 2 tbsp of oil in marinated chicken and transfer into a greased baking pan. Place the pan in preheated oven for just 20 mins. at 350 degrees F until chicken become tender and all the water have been dried.