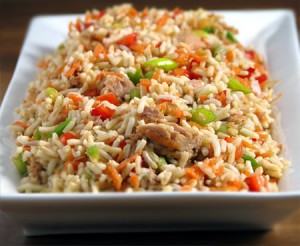 Preparation time : 35 mins | Serves 6 persons
This rice salad recipe is another addition to our quick and healthy recipes. This salad is a complete meal so if you want to reduce your weight and try to find some energetic meal having low calories then this salad is best for you.
Ingredients:
3 cup cooked rice
½ cup peas (boiled)
½ cup sweet corn
¼ cup red pepper (chopped)
¼ cup green pepper (chopped)
1 cup fried boneless chicken (small pieces)
Salt to taste
Pepper to taste
1/3 cup olive oil
Procedure:
1. Combine all the veggies and rice together in a large salad bowl.
2. Add chicken pieces with seasoning of salt, pepper and olive oil and toss well so that every ingredient incorporates well.
3. Place this salad bowl in fridge to chill for at least half an hour, and then serve as side dish in lunch or dinner.
photo source : 1