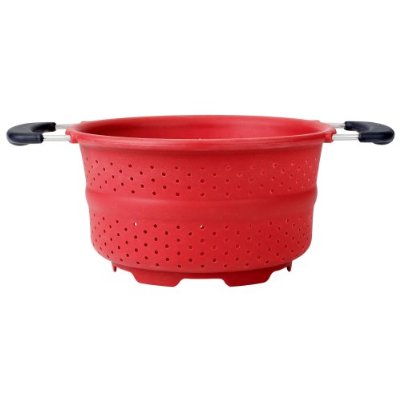 [asa]B001713LA2[/asa]
Today our product for review is a very handy kitchen utensil, a collapsible colander by Oxo Good Grips. It is a silicone colander that is just about perfect in rinsing moisture out of rice, vegetables, pasta etc. It is a very handy kitchen tool that is used very often. Continue reading below to read more on Oxo Good Grips silicone colander review.
As you can see in the above picture, the Oxo silicone colander is entirely made of nonstick silicone material. It can withstand temperatures as high as 600 degrees and you can easily use it with other nonstick cookware. Handles have nonslip grip and due to the use of silicone in the making of this colander, you can easily immerse it in boiling water without worrying about losing its shape.
The Oxo Good Grips colander is a collapsible colander. The silicone colander has a 3.5 quart capacity and is almost 9 inches in diameter which is just about the perfect size as you can use it inside standard size stockpots having 5 to 6 quart capacity. Just push the base of the colander from outside and the colander is as compact as 2 inches in height. This comes in handy when you have little storage space in cabinet as well as in a dishwasher. By simply pressing the center from inside, the silicone colander collapses into its actual size. Another handy feature is the presence of feet in this collapsible colander so that you can leave it inside an empty pot for completely draining the moisture.
Where To Buy ?
The Oxo Good Grips Silicone Colander is available at Amazon (with FREE shipping) at a special 10% discount price.