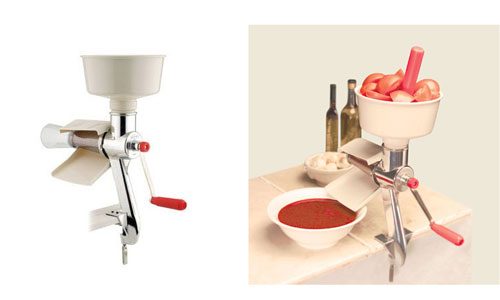 [asa]B000I4Y4PK[/asa]
Having able to make your own tomato sauce at home is a great plus as freshly extracted sauce has no alternative and this is all done with the help of a sauce machine. The product in question is Back to Basics Food Strainer plus Sauce Maker that does the job for you in a tidy manner without creating any mess. With this small and powerful tool you will be able to make sauces, soups, purees, jams, jellies etc. Continue reading below to find more about this sauce maker.
The idea behind this sauce machine was to allow consumers to make sauces without even peeling fruits and vegetables. This Back to Basics sauce maker not only separates the skin but also removes the seeds from sauces that are strained through it. Unlike other bulky mechanized sauce makers, this does not require any power to operate as it makes sauces via paddle that is rotated manually.
The overall appearance of this sauce maker is sleek and unlike other kitchen appliances and tools, it is not placed in conventional manner and can be mounted on counters or table borders as shown in the picture above.
This Back to Basics sauce machine and food strainer comes with a push stick and medium size screens for tomatoes and apples. The screens are made of stainless steel and will never catch rush or any stain despite the fact that they will come in contact with all sorts of food juices. A seed filter makes sure that your sauces remain seed free. Rest of the body is made of nylon which includes spiral which contains the food and the hopper which drops the sauce into a bowl or other container.
You can easily order this Back to Basics sauce machine from Amazon (with FREE shipping) at a special discount price which you might not be able to locate any where else. You can also browse the lest of other best selling sauce makers and food strainers.