Triturating Juicer is the type that is not common, it is also known as Twin Gear Juicer or Dual Auger Juicer. The so-called name is based on its assembly because it consists of two gear systems to extract all the juice from fruits and vegetables. This kind of juicing machine easily extracts all the juices from soft leafy vegetables to hard vegetables. If you have serious concerns regarding your health and your doctor strictly recommend you to take fresh juices then you must have the true Triturating Juicer at home.
The main reasons for having Triturating Juicer in every home:
1. They yield the maximum amount of juice other than masticating and centrifugal types. Just because of the slow speed motor, it slowly crushes the vegetables and fruits and then squeezes till the last drop out leaving only dry pulp.
2. The juice extracted from the Triturating Juicer is free of froth and can be retained in fresh condition for several hours. This is due to the slow-speed motor which maintains healthy enzymes, vitamins, and minerals and prevents oxidation, thus lasting for more than a day.
3. Capable of extracting juice from all kinds of vegetables and fruits including green leafy vegetables to harder fruits and vegetables like carrots and green apples.
Here we are guiding you to the perfect juicing machines that will last for decades and what you are looking for – Super Angel All Stainless Steel Twin Gear Juicer – 5500 and GSE-5000 Green Star Jumbo.
Super Angel All Stainless Steel Triturating Juicer – 5500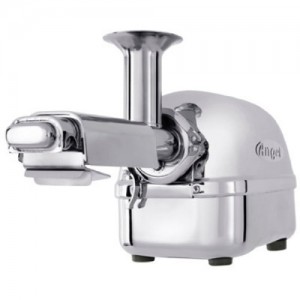 It is the most recommended Triturating Juicer because of its durable body made of Stainless Steel. Generally, juicing machines are made of plastic body which gets stained little by little and starts looking unsightly with time but this will not be the case with this Super Angel Triturating Juicer. Its body is stain-proof and easy to clean. The working mechanism is the same as other Triturating Juicers; first, the 3HP motor draws pressure screws to press vegetables or fruits, and then the screws grind pulp into a soft mass from which nutrients and juice have been meticulously drained and you will get a pure, fresh and healthy juice. The parts are fewer as compared to other juicers of the same type and thus easy to assemble.
This amazing piece of Triturating Juicer from Super Angel is available at a price of $1,150 (4% discount) with Free Shipping from Amazon. You will definitely think that the price is too high to afford but keep that in mind that this great piece of All Stainless Steel Triturating Juicer gives you two significant benefits
1. Durable body lasts for decades with 3HP powerful motor
2. Extract the most juice from all kinds of stuff which other juicers can't do.
GSE-5000 Elite Green Star Jumbo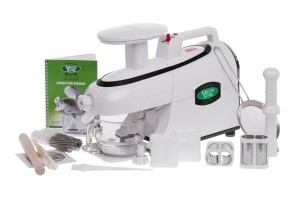 Green Star is another big producer of Triturating Juicer its GSE -5000 model is the most successful model and even improve it's by introducing the Elite version of the GSE-5000. This GSE-5000 Elite is better in two ways, first, its assembly becomes easier and the juice extraction stages increase from 2 to 3. Let's discuss these improvements to better understand their importance.
The two screws system for assembling and disassembling the interior mechanism has been replaced by just lifting the top up and then disassembling other parts easily including two gears, the screen, and in-housing.
The newer Elite model comes with a three-stage twin-gear juicer because of the two additional round plastic gears. At first, the stainless steel portion of the gears crushes the vegetables and fruits, then mixing is done by the two added round gears, and finally, the slightly thinner round gears squeeze all the juice leaving only the dry pulp outside the tube.
Another interesting point of this Elite GSE-5000 is that the juicer easily sucks the lightweight or green leafy objects, so you don't need to press the leafy object to extract all the juice.
The pressure adjustment knob is provided at the pulp ejection end that is required for pulp ejection in order to effectively handle a wider variety of produce without jamming or clogging.
What Comes with the Elite?
The GSE-5000 Elite comes with a glass juice pitcher, wooden plunger, plastic plunger, cleaning brush, and four different screens to accompany your juice and food adventure;
1. fine screen to extract juice with minimal pulp
2. the coarse screen to extract juice with more pulp mixed in
3. the homogenizing blank for basic food processing
4. the breadstick (mochi) maker set to make delicious raw breadsticks and rice cakes.
The last screen is used when you get some additional assembly parts to convert this Greenstar Elite to a pasta maker.
Greenstar GSE-5000 Elite Triturating Juicer is available in various online stores but Amazon is offering this Triturating Juicer at a 17% discount rate with Free Shipping. So grab it before this offer ends and enjoy healthy living with fresh juices.