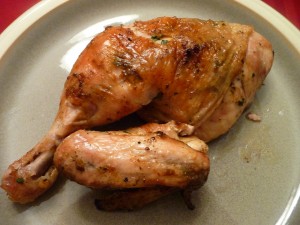 Preparation time: 50 mins. + Marinating time | Serves 4 persons
This Moroccan Grilled Chicken is also known as Djej Mechoui. It is prepared with a wonderful Moroccan spice aroma and its flavor enhances only by means of grilling. Use only skinned chicken to make this recipe as the skin stores the aroma and juice inside the flesh and tastes awesome.
Ingredients:
1 whole chicken with skin (cut into large pieces)
4-5 cloves garlic (chopped)
1 medium shallot (chopped)
1 tbsp ground cumin
1 tbsp chopped parsley
1 tbsp sweet paprika
½ tsp hot paprika
1 tsp black pepper
Salt to taste
2 tbsp butter
2 tbsp olive oil
Juice of 1 lemon
Procedure:
1. Wash and dry the chicken thoroughly using a towel and set aside.
2. Crush shallot, garlic, paprika, cumin, black pepper, and parsley either in a processor or mortar and pestle.
3. Then blend this spice mixture with lemon juice, salt, butter, and olive oil.
4. Rub this mixture onto the chicken pieces using your hands and leave it to marinate for an hour or overnight.
5. Preheat your grill pan and place 2-3 chicken pieces on it. Grill for 3-5 mins. then turn and baste with extra butter mixture or simply butter. Continue grilling in the same fashion until becomes crisp from the outer side and cook well from the inside.
6. Serve the hot grilled with vegetable salad.
photo source : 1