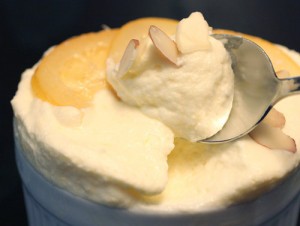 Preparation time : 20 mins. + Refrigeration time | Serves 4-6 persons
This Pineapple Souffle recipe is a no bake type and is prepared by freezing method. To prepare this souffle you just need to prepare custard according to the recipe and then combine rest of the ingredients as mentioned in the recipe. The texture is creamy just like pudding and tastes is awesome. If you don't want to prepare custard you will then have to use evaporated milk and condensed milk combine together and then follow rest of the steps of this recipe, the result will be almost same.
Ingredients:
For Custard:
3 egg yolks
1 cup milk
3 oz caster sugar
1 tbsp flour
For Batter:
¼ cup pineapple juice
1 pack pineapple jello mix
2 egg whites
8 oz whipped cream
Pineapple chunks for garnishing
Procedure:
1. To prepare custard, combine together all custard ingredients and mix them well. Cook the mixture on low heat for 10-12 mins. until the mixture gets thick. Stirring the mixture constantly to avoid burning.
2. When the custard is done cool it to room temperature and stir in between so that thick layer would not form on the surface.
3. Now combine pineapple juice and jello mix and add it to the custard.
4. In a separate bowl beat egg whites till stiff peaks are formed then fold it with whipped cream.
5. Combine both the custard mixture and egg white mixture using soft hands and pour it into the serving bowl. Refrigerate the mixture for 2-3 hrs. to make it firm.
6. Serve the chilled pineapple souffle with topping of pineapple chunks.
photo source : 1