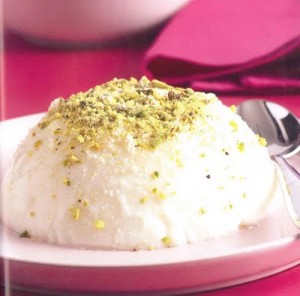 Preparation time : 40 mins. (approx.) | Serves 4 persons
This Muhallabia recipe is taken from Mediterranean cuisine and is one of a form of milk pudding. The recipe is prepared with rice flour and almond flavor (optional) and is very easy to cook. It has pudding like texture and you can add some other flavors too like some other essence in place of rose water.
Ingredients:
5 cup milk
½ cup ground rice
½ cup ground almond
⅔ cup castor sugar (or to taste)
2 tbsp rose water
Finely chopped pistachios for garnishing
Procedure:
1. In a small bowl combine ground rice and ½ cup milk and make thin paste.
2. Pour rest of the milk in a heavy bottom pan and let it boil.
3. Then add sugar and cook it for further 5 mins.
4. Reduce the flame to low and then add ground rice paste and stir continuously to mix well.
5. Cook the mixture till it gets thick texture like pudding, it would take 15-20 mins. Make sure you don't forget to stir the mixture in between otherwise it would stick at the base and may burn.
6. After that add the ground almond and rose water and stir well to cook for just 3-5 mins. more.
7. Take out the hot milk pudding or Muhallabia in a serving bowl and let it cool to room temperature then keep it in refrigerator for some time to make it firm.
8. Serve the delicious muhallabia with topping of ground pistachio.
photo source : 1