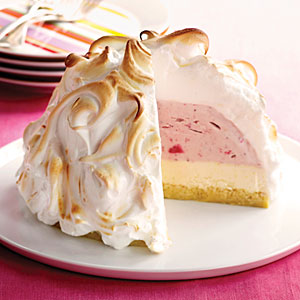 Preparation time : 30 min + Freezing time | Serves 8-10 persons
This recipe for baked Alaska is prepared with lemon custard and strawberry ice cream filling with topping of delicious meringue. All the recipe of filling except ice cream is given in the recipe which is very easy to prepare and you just need to wait to chill the batter. You may also use readymade stuffing of any flavor to save time and make variations.
Ingredients:
1 cup sugar
2 eggs
2 egg yolks (lightly beaten)
1/3 cup lemon juice
1/8 tsp salt
6 tbsp butter
1 tsp grated lemon peel
1½ quarts strawberry ice cream (softened)
1 pastry shell (baked)
Meringue:
5 egg white
½ cup sugar
½ tsp cream of tartar
1 tsp vanilla extract


Procedure:
1. To prepare custard layer combine sugar, eggs, lemon juice and salt.
2. Pour the mixture in a saucepan and then cook over medium heat until it gets thick. Keep stirring in between to avoid sticking the mixture.
3. Then stir in butter and lemon peel and refrigerate until chilled.
4. Over a pastry shells spread the prepared custard layer then top it with ice cream layer and freeze for overnight.
5. To prepare meringue, combine the egg whites, sugar and cream of tartar and beat at on low speed until blended well then cook on low heat and keep beating at low for about 10-12 min.
6. Remove the pan from heat mix with vanilla and then spread it over the frozen pie. Bake at 450 degrees F for 3-5 minutes or until lightly browned from top.
photo source : 1