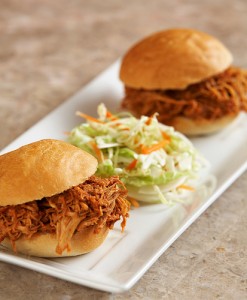 Preparation time : 4 hrs. | Serves 4 persons
This crockpot barbecue chicken is one of a delicious chicken recipe with barbecue sauce flavor. This recipe has more taste than other barbecue chicken gravy recipes as it is prepared in crockpot at low for hours hence the flavor of chicken combine well with the barbecue sauce.
Ingredients:
2 boneless chicken breasts
1½ cup tomato ketchup
3 tbsp brown sugar
1 tbsp Worcestershire sauce
1 tbsp soy sauce
1 tbsp cider vinegar
1 tsp ground red hot pepper flakes
½ tsp garlic powder


Preparation:
1. Combine all the ingredients in crockpot except chicken and mix well.
2. Add chicken and coat it well with the sauce and cook for 3-4 hrs until chicken completely cooked.
3. After that shred the chicken pieces and then mix it well with the prepared barbecue sauce.
4. Delicious crockpot chicken barbecue is ready to serve.
photo source : 1