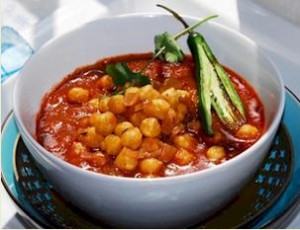 Preparation time : 30 min. | Serves 4 persons
This chickpea chicken is prepared in typical Pakistani style that's why it is bit spicy. It is also called "Murgh Cholay" in traditional language and is prepared with lots of spices. This chickpea chicken tastes spicy, sourly and creamy.
Ingredients:
450 lb boneless chicken (cut into cubes)
450 lb small chickpea (boiled)
1 tbsp baking soda
½ cup yogurt
½ cup cream
2 tbsp ginger (julienne)
1 tsp red pepper powder
1 tsp crushed red pepper
1 tsp garlic paste
1 tbsp roasted crushed coriander seeds
1 tsp hot mix spice powder
1 tbsp roasted crushed cumin seeds
2 tbsp butter
3 tbsp tomato paste
3 medium onion (thinly sliced)
6 green chilies (chopped)
¼ cup coriander leaves (chopped)
2 cup oil
Procedure:
1. In a wok deep fry onions and drain after gets golden brown and crisp. Keep stirring while frying so that onion gets brown evenly.
2. In a sauce pan add a cup of oil (drained from onion) and cook chicken with garlic until become white and dry.
3. After that add red pepper, crushed red pepper, tomato paste and yogurt to the chicken and cook over high heat till oil starts to separate from the gravy.
4. Then add chickpea and cook for further 2 min. then add 1 cup of water with crushed fried onions and simmer for 10 min.
5. Now add remaining spices including roasted cumin and coriander, hot mix spice and cream and simmer for 2-3 min.
6. In the end add butter, ginger, chopped coriander and green chilies, cover the lid and turn off the flame.
7. After 10 min, serve the hot chickpea chicken with traditional naan.
photo source : 1