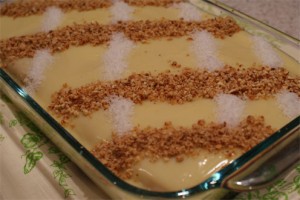 Preparation time : 45 mins | Serves 6-8 persons
This biscuit pudding is one of an easy dessert at home, it only takes time in baking otherwise the method is simple. This pudding would give good taste if the graham cracker biscuits are one day old so that the biscuits would get soft quickly and takes less time to set.
Ingredients:
2 ¼ cup milk
2 eggs
3 cup graham cracker biscuits (break into large pieces)
½ pack candy biscuits (powdered)
½ cup brown sugar
1 tsp cinnamon
¼ tsp salt
½ cup raisins
1 can condense (or as required for topping)
Procedure:
1. In a mixing bowl beat eggs until egg white and yolks mix well.
2. Add milk to the eggs and beat again to mix.
3. Combine brown sugar and raisins together.
3. Take wide baking dish and spread biscuit chunks at the base of dish.
4. Pour beaten egg and milk mixture over the biscuits, now make layer of raisins mixture, pour condensed milk to cover the biscuits and raisins and in the end sprinkle cinnamon and powdered candy biscuits on top.
5. Place the dish in preheated oven for 30-40 min at 350 degrees F until pudding becomes set, you can check it by inserting the knife edge in the center if it comes out clean then the pudding is ready to take out from oven.
photo source : 1