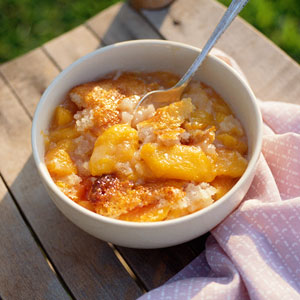 Preparation time : 45 min. | Serves 4-6 persons
This peach cobbler recipe is prepared with canned peaches which you can also prepare with fresh peaches but in that case you will have to add some orange juice to make sauce with the peaches. If you serve this cobbler as cold then top it with some heavy cream and fresh peaches.
Ingredients:
1/2 cup margarine (melted)
16 oz sliced peaches
1 1/4 cups sugar
1 cup all-purpose flour
1 cup milk
2 tsp baking powder
1/4 tsp salt
Procedure:
1. Grease shallow baking dish of cobbler with the whole butter.
2. In a sauce pan boil, peaches with juice and then add half amount of sugar in it. Cook for 5 min at medium heat until sugar melts completely and the sauce gets thick.
3. Now combine rest of the ingredients including remaining sugar, flour, milk, baking powder and salt and mix well.
4. Pour this batter over the greased baking dish and then make layer of cooked peaches with sauce. Bake in preheated oven for 20-30 min at 400 degrees F or until knife inserted comes out clean.
5. You can serve the peach cobbler either warm or cold.
photo source : 1