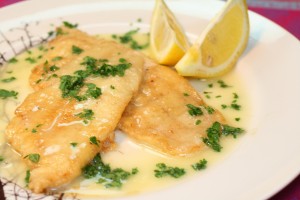 Preparation time : 20 mins. | Serves 2 persons
Sole Meuniere is a simple and easy French recipe. It is prepared with very few ingredients and tastes delicious. Meuniere sauce used in this recipe can be prepared in different styles for instance; you can use flour to give it thick texture like white sauce or use some other seasoning sauces to enhance the flavor.
Ingredients:
4 small sole fish fillets
2 oz flour or as required
Salt and black pepper to taste
4 oz butter
1 tbsp fresh parsley (chopped)
1 lemon juice
Procedure:
1. Sift together salt and pepper and dust the fish fillets in it.
2. Heat the butter in a frying pan, put fillets on it and fry for 3-4 mins. each side to give it light golden color or cook thoroughly. Then remove the fillets from the pan.
3. In the same pan, add lemon juice, salt and pepper and cook for just 1-2 mins.
4. In the serving platter place fish fillets and pour the prepared meuniere sauce over the fish. Sprinkle with some fresh parsley and serve immediately.
photo source : 1