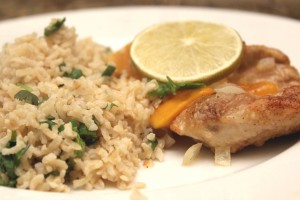 Preparation time : 20 mins. + 30 mins. Marinating time | Serves 2 persons
This Margarita Chicken is prepared by simmering process rather than grilling or baking. Hence it is bit softer and juicy in flavor. You can serve this kind of margarita chicken with fried rice whereas grilled or baked margarita chicken is served with cheesy sauce topping.
Ingredients:
1 lb chicken fillets
1 tsp mustard paste
2 tbsp lemon juice
2 cup chicken stock
1 medium onion (chopped)
1 tbsp paprika
1 tsp salt
2 tsp garlic paste
1 tsp cinnamon powder
4 tbsp oil
Procedure:
1. Marinate chicken with lemon juice, salt and mustard paste and leave for 30 mins.
2. In a saucepan, saute onion in oil for just 1-2 mins. to make it soft.
3. Then add garlic paste and stir well until pleasant aroma starts to come.
4. Now add marinated chicken with remaining ingredients and mix well. Cover the pan and simmer for 15 mins. till chicken tender completely.
5. Serve the hot margarita chicken with green rice, cheese or with any cheesy sauce.
photo source : 1