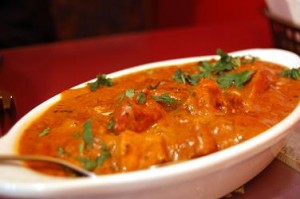 Preparation time : 5 hrs. | Serves 4 persons
This chicken makhani recipe is prepared in slow cooker hence has little bit different taste as compare to usual chicken makhani. It is immediately served hot and butter topping is done just before serving so that aroma of butter would not escape and absorb in the gravy.
Ingredients:
1 lb chicken breast
2 white onions (minced)
2 garlic cloves (minced)
2 tsp fresh ginger (minced)
2 tbsp lemon juice
2 tsp garam masala powder
1 tsp ground cumin
½ tsp ground red pepper
½ tsp ground cloves
½ tsp ground fenugreek
¼ tsp salt or to taste
½ tsp freshly ground black pepper
¼ cup oil
2 tbsp butter
1 tbsp tomato paste
¾ cup yogurt (blended)
Fresh coriander leaves (chopped)
Procedure:
1. Place all the ingredients except butter, yogurt and coriander leaves in slow cooker and let it cook for 4-5 hrs. on low until chicken becomes tender and all the ingredients incorporate well to form a thick gravy.
2. After that add yogurt and cook for 3-4 min on medium heat.
3. Take out the chicken makhani in serving bowl with lid and then top with butter and coriander leaves, immediately cover the bowl with lid so that all steam remain inside and butter melts completely.
4. Serve the delicious chicken makhani with naan.
photo source : 1