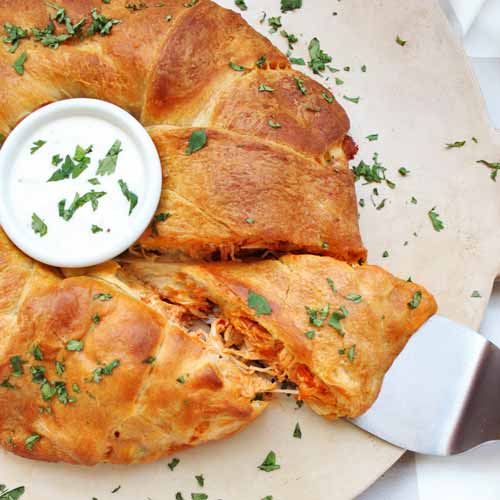 Preparation time : 30-40 mins. | Serves 8 persons
This Buffalo Chicken Crescent Ring is one of a delicious chicken stuffed bread. The filling is made with buffalo sauce, ranch dressing and cream cheese flavor thus in the end you get a cheesy buffalo flavor chicken sandwich.
Ingredients:
8 oz cream cheese (softened)
¼ cup buttermilk ranch dressing mix
½ cup celery (finely diced)
½ cup onions (finely diced)
½ cup Buffalo sauce
12 oz cooked chicken (finely diced)
2 tubes crescent rolls
1 egg white (lightly beaten with 1 tbsp water)
Procedure:
1. Combine cream cheese, ranch dressing, celery, onions, buffalo sauce and cooked chicken in a mixing bowl and mix well.
2. Take a baking sheet and line it with parchment paper, now take out all the crescent rolls from the tube and lay then in circular patter over the parchment sheet. Arrange in such a manner that the single pointed side faces outside and the two sided portion overlaps on one another so that proper close circle is formed.
3. Now place the prepared filling at the inner circular area over the roles forming a ring. To seal the filling, bring the outward corners of crescent rolls onto the filling one by one, in this a a ring shape bread is formed.
4. Brush the top of bread with egg wash and then bake in preheated oven at 375 degrees F for 15-20 mins. or until becomes golden brown.
5. When the bread is ready, take it out from oven and cool for 5 mins. then cut the bread into slices to serve with ranch dressing.
photo source : 1