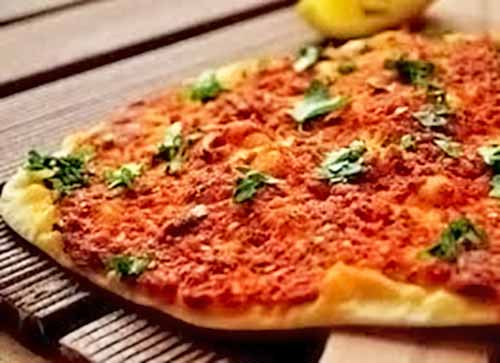 Preparation time : 40 mins. (approx.) | Serves 4-6 breads
This Lahmacun Recipe is a Turkish style pizza made with ground beef and tomato flavor along with some spices. The topping is done on a flatbread and thus the crust is thin but remains soft. This would be one of a healthy meal for Ramadan food for either Iftar meal or Suhur meal.
Ingredients:
1 lb beef mince (leaned)
4 clove garlic (chopped)
1 tsp salt
¼ cup oil
3 tbsp tomato paste
1 tbsp parsley (chopped)
½ tsp crushed black pepper
½ tsp crushed cumin seed
¼ tsp red chili powder
⅛ tsp cinnamon powder
¼ cup tomato (seeded and chopped)
1 small onion (chopped)
1-2 green chilies chopped
For Flat Bread:
2 cup whole wheat flour
¼ tsp salt
Water as required
Procedure:
1. Heat oil in a saucepan and sauté garlic in it for just 1-2 mins. until fragrant but should not turn into golden.
2. Add minced beef with salt, tomato paste, crushed black pepper, red chili powder and crushed cumin and cook over medium high heat until beef is done and oil appears on top.
3. Now add parsley, chopped tomatoes, onion, green chilies and cinnamon powder and simmer for 2-3 mins.
5. To make dough for the flat bread, mix wheat flour and salt and knead it with water until soft and smooth dough forms.
6. When dough is ready, divide it into 4-6 small balls of 2-inch size and roll them with extra flour.
7. Now take a ball and roll it into a thin round shape like a flat bread, similarly roll out other balls.
8. After that apply the prepared minced beef mixture on top of each bread like you do for making pizza and then place them onto the greased baking tray.
9. Place the tray in preheated oven at 400 degrees F and bake for just 8-10 mins. until the bread becomes light brown or golden but remain soft.
10. You may serve the hot Lahmacun as it is with your favorite sauce or you can make rolls of these baked breads.
photo source : 1