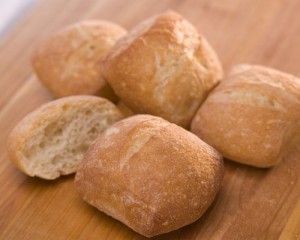 Preparation time : 35 mins. | Serves 12 pieces
This recipe of french roll is nothing but a breakfast bread which most of people buy from bakery but now using this recipe you can easily make it at home. The rolls can also be used for making sandwiches and burgers, so try this recipe and make some delicious homemade stuff for your family.
Ingredients:
750 gm flour
1/2 cup butter
1/2 cup milk
1 tsp instant yeast
1 tsp salt
4 eggs (beaten)
Procedure:
1. You may knead the dough either at your kitchen counter or take a large mixing bowl but counter is best to knead the dough. Make well of flour on your counter.
2. Now add butter, beaten eggs, instant yeast and salt in the center and slightly push the flour onto the liquid mixture and start kneading the dough by adding milk in between. In this way the dough will be very smooth and every ingredient mix well.
3. When mixture gets the shape of dough press it using your palm and roll, repeat this process 3-4 times. Now wrap the dough in gelatin sheet and put it in an air tight container for just 30 mins to rise the dough.
4. After that divide the dough in pieces in such away that every piece will be in round shape of 3 inch dia. In a greased baking pan place all these pieces of dough by keeping distance in each of them so that they would not join together while baking.
5. Place the pan in preheated oven for 20 mins. at 350 degrees F until the rolls turn into light brown in color from top.
photo source : 1