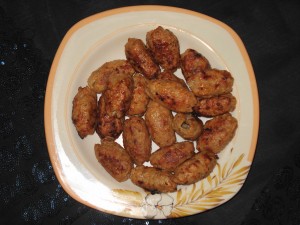 Preparation time: 30 min | Serves 20-24 kebabs
This Lebanese Kebab Recipe is form Lebanese cuisine which is prepared with minced beef or lamb. These kebabs are soft and delicious as they have entirely different flavor. The key ingredients of these kebabs are pasta, potatoes and peas which when combine with meat gives awesome flavor.
Ingredients:
1 kg minced beef
1 pack noodles or macaroni (boiled)
2 boiled potatoes
1 cup green peas
2 eggs
Salt as required
1 tsp crushed black pepper
4 green chilies
2 tbsp soy sauce
1 tsp ginger garlic paste
Oil for deep frying
Procedure:
1. In a sauce pan cook minced beef with ginger garlic paste, soy sauce and salt until all the water from meat would get dry and turn into brown.
2. After that let the cooked mince to cool to room temperature then put into food processor along with boiled noodles or macaroni, 1 egg, green peas, green chilies and potatoes.. Process them together to make smooth batter.
3. Then take out the batter in a mixing bowl and make small balls of 3 inch size and give it slightly elongated shape.
4. Heat oil for deep frying in the pan, dip each kebab in beaten egg and fry in batches over medium heat until become crispy brown, it would take 4-5 min.
5. Serve the Lebanese kebabs with special garlic sauce, lettuce leaves and tomato slices.
photo source : 1