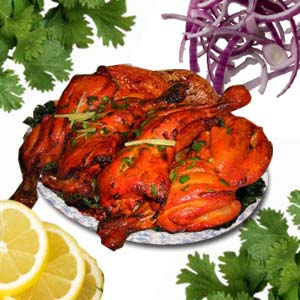 Preparation time : 50 min + Overnight Marination time | Serves 4 persons
This chicken tandoori recipe is one of a famous bbq recipe from Pakistani cuisine but in this recipe it is prepared by baking method. The spices used in this recipe are common and usually use as major ingredients in Pakistani cuisine, they only differ in the method. You may also use raw papaya paste in marination to make this recipe quickly.
Ingredients:
1 whole chickens
2 tsp ground cumin
1 tsp paprika
1 tsp saffron threads
½ tsp ground red pepper
1 tsp salt
8 cloves garlic (minced)
2 oz ginger (minced)
½ tsp whole cumin seed
½ cup butter or ghee (melted)
1 cup plain yogurt
1 tsp ground coriander
2 tbsp lemon juice
Procedure:
1. Make slits at leg and breast sides of the chicken.
2. Soak saffron in 2 tbsp boiling water for just 5-10 min so that color of saffron blend in water and threads would get soft.
3. Marinate the chicken with salt, lemon juice and saffron and leave it for at least 30 mins so that every piece of chicken would get the flavor.
4. In a mixing bowl combine spices including ginger garlic, paprika, red pepper, cumin, coriander and yogurt
5. Rub the chicken with the prepared spicy marinade. It is better to use your hands to marinate the chicken so that spices are spread evenly over the whole chicken. Leave the chicken for marination for overnight.
6. Preheat oven to 500 degrees F and take a greased roasting pan place the chicken in it and pour the melted butter or ghee over the whole chicken,
7. Bake for 12-15 min and then reduce the temperature to 350 degrees and bake again for 30 min until chicken become tender. To keep the chicken juicy, place a dish of warm water in the oven so that chicken would not get dry while baking.
8. Serve the hot chicken tandoori with onion rings, lemon wedges and chopped coriander.
photo source : 1