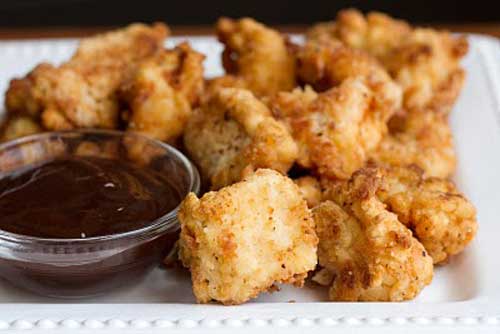 Preparation time: 20 mins. + Marinating time | Serves 4-6 persons
This is a copycat version of the delicious Chick-Fil-A Nuggets Recipe inspired by the famous Chick-Fil-A restaurant in America. It is prepared in a very easy fashion; the only time it takes in the marination otherwise the recipe has nothing to do. Its main ingredients are dill pickle juice and peanut oil, which add some extra flavor to these nuggets and make them different from others.
Ingredients:
For Marination:
1 lb boneless skinless chicken breasts (cut into small cubes)
1 tsp salt
1 tsp pepper
½ cup milk
¼ cup dill pickle juice
1 egg
For Coating:
1¼ cup flour
2 tbsp powdered sugar
1 tsp salt
1 tsp pepper
Peanut oil for shallow frying
For Honey Mustard Sauce:
¼ cup mayonnaise
2 tbsp honey
1 tbsp mustard
2 tsp Dijon mustard
2 tsp freshly squeezed lemon juice
Procedure:
1. Rub chicken cubes with salt and pepper and set aside for 5 mins.
2. In a mixing bowl, whisk together egg, milk, and pickle juice then add chicken cubes in it. Cover and refrigerate this mixture overnight or for 3-4 hrs.
3. Combine flour, powdered sugar, salt, and pepper in a Ziploc bag and shake well to mix.
4. Add the marinated chicken piece to the dry mixture bag and shake well.
5. Heat peanut oil in a skillet for shallow frying, add coated chicken pieces to the oil and fry over medium heat for 8-10 mins. until become crispy golden brown.
6. Combine the ingredients of the sauce and serve the hot Chick-Fil-A Nuggets at home with the freshly made honey mustard sauce.
photo source : 1