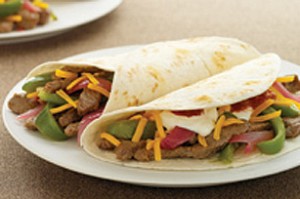 Preparation time : 30 min | Serves 4 persons
This beef fajita recipe is prepared with Southwest Fajita Mix flavor which gives pleasant aroma of herbs to the fajita. You may also try this tasty recipe with chicken and some other veggies.
Ingredients:
1 lb flank steak (cut into ¼" strips)
3 tsp Southwest fajita seasoning mix
1 tbsp canola oil
1 medium sweet red pepper (julienne)
1 medium yellow pepper (julienne)
1 large onion (julienne)
1 tbsp lime juice
8 flour tortillas (warmed)
Procedure:
1. Marinate beef strips with fajita seasoning and leave for 15 min.
2. Now heat oil in a skillet and sauté peppers and onion for just 3-4 min, then add marinated steak strips and cook for 5-10 min until strips become tender and turn into brown in color.
3. In the end pour some lime juice over the prepared beef fajita.
4. Serve the yummy beef fajita by wrapping it with warmed tortillas.
photo source : 1