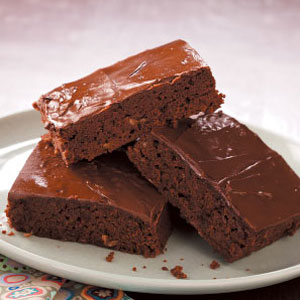 Preparation time : 40 min | Serves 16-18 pieces
These coconut brownies are another addition to our brownies recipes collection. This one of a good recipe for brownies is prepared with coconut flakes which you may also use for topping to get extra coconut flavor. These brownies are bit drier than the normal fudge brownies; you can make it moist by adding hot water in the batter.
Ingredients:
1 cup butter (softened)
2 cups sugar
4 eggs
1 tsp vanilla
1½ cup all-purpose flour
10 tbsp baking cocoa
½ cup flaked coconut
For Topping:
1 lb milk chocolate
¼ cup milk
1 tbsp butter
Procedure:
1. In a mixing bowl combine butter and sugar until become fluffy and light.
2. Add eggs one by one and beat after each addition when batter gets foamy texture then mix the batter with vanilla.
3. Sift together flour and cocoa and then gradually mix it with the batter.
4. Fold the batter with coconut flakes using spatula.
5. When batter gets uniform density then pour it onto the greased square baking pan.
6. Bake for 25 min approx. at 350 degrees F.
7. Meanwhile prepare topping, for that melt chocolate over steam then mix it with milk and butter and cook until starts bubbling.
8. When brownies become ready cool it to room temperature and then pour the prepared chocolate glaze on top. Cut it into square pieces after cool it to room temperature.
photo source : 1