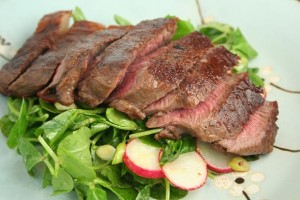 Preparation time : 15 min + 2 hrs. Marinating time | Serves 2-4 persons
This teriyaki steak recipe is prepared with beef and is good if sirloin steaks are used so that they would take less time to cook and marinate. These steaks can be served with fried veggies or vegetable salad.
Ingredients:
2 tenderized round steak (thinly sliced)
2 tsp powdered ginger or ginger extract
2 cloves garlic (minced)
1 medium onion (finely chopped)
2 tbsp sugar
½ cup soy sauce
¼ cup water
Salt to taste
Procedure:
1. In a saucepan, combine ginger, garlic, onion, sugar, soy sauce, salt and water and cook over low heat till sauce gets boil.
2. Pour the prepared sauce over steak slices and let it stand for 2 hrs.
3. After that broil the marinated steak slices for 10-12 min from both side.
butsource : 1