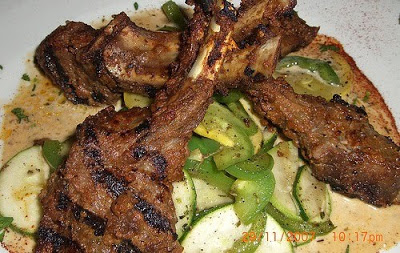 Preparation time : 2 hrs. | Serves 8 persons
This fried chops recipe is typical original recipe from Pakistani cuisine. These chops are different in such a way that they are served with some fried cookies called "tikiya" in traditional language, these cookies are prepared with the oil released from chops while cooking so cookies have great flavor of chops inside. Try these different fried chops recipe at home and enjoy true South Asian food.
Ingredients:
For Chops:
1 kg mutton or beef chops
2 tbsp ginger paste
2 tbsp papaya paste
250 gm yogurt
1 tbsp hot mix spice (garam masala)
1 tbsp cumin powder
1 tbsp red pepper powder
1 tsp black pepper
1/2 tsp nutmeg and mace powder
Salt to taste
For Fried Cookies (Tikiya):
1 cup oil (obtained from chops after cooking)
300 gm all purpose flour
1 tsp salt
1 tsp nigella seeds (kalonji)
Water to knead the dough
Oil for deep frying

Procedure:
1. In a deep sauce pan marinate chops with ginger paste, papaya paste, yogurt, hot mix spice, cumin, red pepper, black pepper, nutmeg and mace and salt. Leave it for 30 mins.
2. Now cook the marinated chops on medium low heat for at least an hour until chops become tender. Add water if necessary otherwise meat water is enough.
3. When the meat has been cooked take out its oil from upper surface carefully so that oil may not mix into the meat water. Reserve this oil for making cookies.
4. Now to make cookies mix chop's oil, salt, nigella seeds into flour until soft crumbs would form. Then knead the dough using water, make sure the would not be soft it should be harder then normal dough.
5. Divide the dough into 3 pieces, take one piece and roll it over a flat surface using rolling pin. Roll it till its thickness become half inch and then using cookie cutter make its round pieces. Similarly make rest of the cookies.
6. Heat oil in a frying pan for deep frying cookies, put cookies in batches and fry a batch for 4-5 mins. until become light golden form both sides.
7. Now put all the cookies into the chops pan and dry its all water by cooking on high flame and then remove the pan from heat.
8. Before serving shallow fry these chops with cookies to just give them brownish color and make crispy. It would take just 4-5 mins.