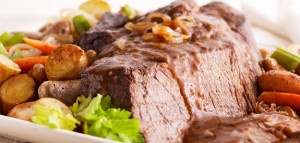 Preparation Time: 6 hrs. (approx.) | Serves 4-6 persons
This Italian Pot Roast is prepared in slow cooker in a slightly different manner. In this recipe marinated beef chuck roast is first  grilled for a very short time in oven then it is cooked with veggies and tomato mixture in slow cooker. However, if you don't want to cook roast for hours you can use beef roast recipe which uses almost the same ingredients but prepare by broiling method.
Ingredients:
1 lb small onion (peeled)
4 medium potatoes with skin (quartered)
2 cup baby carrots
1 stalk celery (diced)
1 can beef broth
1 can tomato paste
2½ lb boneless beef chuck roast
½ tsp pepper
1 tsp garlic powder
½ tsp oregano
½ tsp thyme
½ tsp rosemary
2 tbsp lemon juice
3-4 tbsp flour
1 tsp vegetable oil
Procedure:
1. In a slow cooker put veggies including carrots, onions, potatoes and celery along with beef broth and tomato paste.
2. In a mixing bowl combine lemon juice, garlic powder, herbs and pepper and apply it to the beef roast then leave it for 15 mins.
3. Now heat your grill pan or griddle with oil, dust marinated beef with flour and then grill the beef over medium-high heat for just 4-5 mins. from both sides. This is done only for giving crispy brown look to the roast.
4. Now place this chuck roast into the top of vegetables mixture, cover and cook on high for about 5-6 hrs.
5. When beef and veggies are done nicely, take them out from the slow cooker and leave the residue in the pot. The residue is thin you can turn it into thick sauce by adding 1-2 tbsp of cornflour (dissolved in 2 tbsp water) into the residue and cook for few mins.
6. When the sauce becomes thick pour it onto the roast and veggies it would add glossy appearance and looks appealing.
photo source : 1