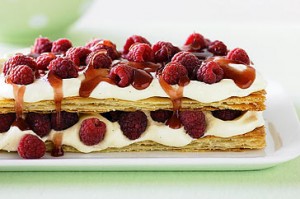 Preparation time : 40 mins. | Serves 2 persons
This Napoleon Pastry recipe is taken from French cuisine where it is famous as Mille-Feuille Pastry. It is prepared with puff pastry and filling of creamy frosting while addition of some fruity flavor gives complement to the recipe. .
Ingredients:
1 lb puff pastry
1 cup fresh raspberries
1 large cup milk
2 tbsp flour
1 egg yolks
½ cup caster sugar
1 tsp vanilla essence
½ cup cream
Raspberry sauce for topping
Procedure:
1. Flatten the puff pastry dough to a rectangular shape of thickness of approx. 1 cm. then cut into two or three pieces (depend upon how many layers you want).
2. Place the flattened puff pastry strips onto the greased and dusted baking tray and bake in preheated oven for 30 mins. AT 325 degrees F.
3. Meanwhile prepare filling. for that you need to whisk together milk, egg yolks, vanilla essence, caster sugar and flour. Then fold the batter with whipped cream.
4. Take out the puff pastry from oven and cool the strips to room temperature. Now make layer of prepared filling on top of each pastry and then put raspberries onto the cream layer. Place one pastry on another and in the end drizzle some raspberry sauce from top.
5. Delicious Napoleon Pastry is ready to serve.
photo source : 1