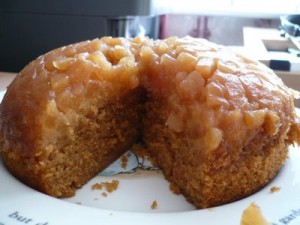 Preparation time : 50 mins. | Serves 4 persons
This apple pudding is more like apple bread with little different in amount of ingredients. You can serve this pudding either as hot or cold, if you serve it after chill then top it with some whipped cream and apple sauce otherwise you can serve as described in the recipe below.
Ingredients:
1 stick margarine
1 cup brown sugar
1 egg
1 cup flour
1 tsp baking soda
1 tsp salt
1 tsp vanilla extract
2 cup apples (chopped)
¼ cup almonds (chopped)
¼ cup pecans (chopped)
For Garnishing:
½ cup apples (chopped)
½ cup water
Sugar to taste
1 tbsp lemon juice
Procedure:
1. Cream sugar and margarine together until become light and fluffy.
2. Add egg and beat again for 2-3 mins.
3. Combine dry ingredients together including flour, soda and salt.
4. Gradually add this dry mixture to the sugar mixture and mix using wooden spatula.
5. After that add vanilla extract, apples and fold the mixture with chopped nuts.
6. Pour the batter into the greased baking mold and bake for 40 mins at 350 degrees F.
7. Meanwhile prepare the topping for pudding, for that boil water in a sauce pan add apples, sugar and lemon juice and cook until sauce becomes little thick, then remove the pan from heat and let it cool to room temperature.
8. When pudding becomes ready i.e. slightly brown from top and set then take it out from oven and cool to room temperature and then pour the prepared topping on it.
photo source : 1