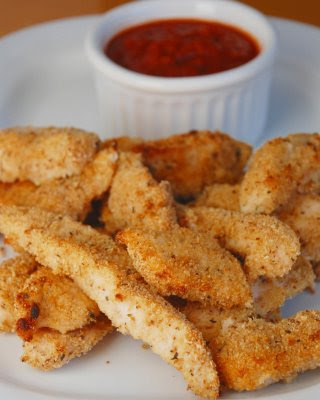 Preparation time : 30 mins | Serves 8 persons
This is a healthy and yummy nuggets recipe prepared by baking only. So no need of deep frying. In this nuggets recipe Italian seasoning is used and hence the nuggets are very light and are not spicy anymore. For more interesting appetizer recipes, refer to the book The Big Book of Appetizers contains more than 250 varieties of starter recipes.
Ingredients:
3 chicken breasts (cut into small squares)
1 cup bread crumbs
1/2 cup grated Parmesan cheese
1 tspn salt
1 tspn dried thyme
1 tblspn dried basil
1/2 cup margarine (melted)
1 tspn Italian seasoning
1/2 tspn crushed red pepper (optional)
1 tspn black pepper
Procedure:
1. Preheat oven to 400 degrees F.
2. In a mixing bowl, mix bread crumbs, cheese, salt, thyme, Italian seasoning, red pepper, black pepper and basil.
3. Put melted margarine in a bowl.
4. Now dip chicken pieces into the melted margarine, then coat each piece with the crumb mixture.
5. Place the coated chicken pieces in a greased baking pan and bake in the preheated oven for 20 mins until become light golden from top.