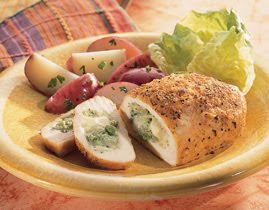 Preparation time : 1 hr. | Serves 4 persons
Cheese stuffing is used to prepare this stuffed chicken breast and is prepared by baking method but you may also prepared it at grill pan or steam. You can serve this chicken either by cutting its pieces or leave it as it is but to present it as whole you may need to prepare some kind of sauce like brown sauce, white sauce, etc.
Ingredients:
1/2 cup ricotta cheese
1/4 cup finely chopped pecans
1/3 cup grated Parmesan cheese
1 tsp crushed black pepper
1 tbsp chopped parsley
3-4 chopped green chilies
Salt to taste
1 egg (beaten)
1/4 cup bread crumbs (fine)
1 tsp dried oregano
1 boneless chicken breast with skin (cut into halves)
2 tbsp vegetable oil
Procedure:
1. Preheat oven to 350 degrees.
2. To make stuffing, combine ricotta cheese, pecans, Parmesan cheese, black pepper, parsley, green chilies, salt and oregano.
3. Now take a half part of breast and make its pocket by spreading the hollow part at the wide top side of breast.
4. When both the pockets are ready then fill the prepared stuffing in each of them and then seal using tooth pick.
5. After that coat the stuffed breast pieces one by one in beaten egg and crumbs. Pour oil on each of breast and then place them in a greased baking tray
6. To bake chicken breast, at first put the water in a baking dish and let it boil. After that place the baking tray onto the boiled water dish for 40-50 mins until chicken becomes golden brown from top. This way of baking chicken results in juicy baked chicken rather then dry and hard.