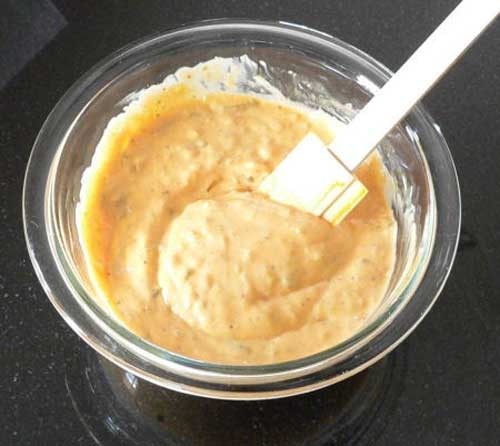 Preparation time : 10 mins. | Serves 1/2 cup
This Homemade Big Mac Sauce recipe is inspired from the famous fast food restaurant McDonald. It is usually used as sandwich filling and dipping sauce for various type of sandwiches. You can also make the same sauce at home by using the following recipe.
Ingredients:
¼ tbsp Dijon mustard
Pinch of salt
2 tsp caster sugar
1 tbsp white vinegar
2 tbsp olive oil
½ cup mayo
4 tsp sweet pickle relish
1 tbsp onion (finely minced)
1/8 tsp pepper
Procedure:
1. In a mixing bowl, combine mustard, salt, caster sugar and vinegar and whisk well to mix.
2. Now slowly add olive oil using bottle and continue beating until the mixture becomes little dense.
3. After that add, mayo, pickle relish, onion and pepper and whisk well to make uniform mixture.
4. Homemade Big Mac Sauce is now ready to serve as the sandwich filling or dipping sauce.
photo source : 1