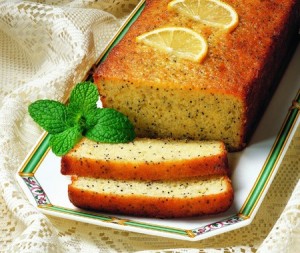 Preparation time : 50 min | Serves 12 pieces
This lemon poppy seed cake recipe is one of an emerging recipe in recent years and its popularity is increasing day by day. Its taste slightly resemble with any buttermilk plain cake but addition of poppy with lemon flavor makes this cake more delicious and different flavor. It is also served with topping of lemon curd which makes it more appealing to eat.
Ingredients:
9¼ oz sugar
2 cup all-purpose flour
3 tbsp poppy seeds
2 tsp baking powder
1 tsp baking soda
½ tsp salt
1 large egg
1 cup buttermilk
3 tbsp canola oil
2 tsp freshly grated lemon zest
1 tsp vanilla extract
Procedure:
1. Preheat oven to 350°F.
2. Mix together flour, poppy seeds, baking powder, baking soda and salt in a mixing bowl.
3. Beat egg in a separate bowl until gets foamy texture.
4. Add sugar, buttermilk, oil, lemon zest and vanilla to the beaten egg and beat at low speed just to mix.
5. Now gradually add dry mixture to the egg mixture and fold with wooden spatula. When the batter becomes uniform and smooth pour it to the suitable greased baking pan and bake for 30 to 40 min until skewer inserted in the center comes out clean.
6. After that cool it to room temperature and then cut into pieces for serving.
photo source : 1