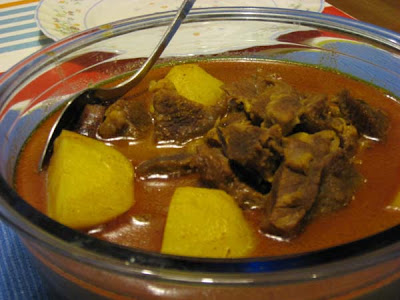 Preparation time 90 mins (approx.) | Serve for 4 persons
Beef stew is prepared with veggies and beef with soup in continental cuisine but in Pakistani cuisine it is usually prepared with potato and the gravy is made spicy. Unlike our previous beef curry recipe it has more gravy and is served with traditional bread called "Naan" or "plain chapati".

Ingredients:

1/2 kg beef with bones
3 medium onions (cut into large pieces)
1 tbspn garlic paste
1 tbspn ginger paste
1 tspn turmeric powder
1 tbspn red chili powder
1 tspn coriander powder
1 tsbpn cumin powder
1 tspn black pepper
1 tspn hot spice powder (ground; 4 cardamom, 4 cinnamon sticks and 2 cloves)
pinch of nutmeg and mice powder
Salt to taste
3-4 medium potato (make 2 pieces of each)
water as required
1/2 cup oil
1/4 cup crispy fried onions
coriander leaves as required
Procedure:


1. Take a pan and boil onion with very little water (almost half of a cup) for 10 mins.
2. In a blender, blend boiled onions. Always try to use best blender for smooth blending like cuisinart hand blender.
3. Put oil in the pan and add onion paste, garlic and ginger paste, salt, red chili powder, coriander powder and turmeric powder. Saute all the spices and paste for 2-3 mins.
4. When smell starts to come from the paste, add beef and water in it. The quantity of water is just enough to cover the beef.
5. Now cover the pan and leave it to cook on high flame until the water starts to boil. After that slow down the flame and cook for 45-50 mins or until meat become completely tender.
6. In a separate pan boil potatoes for 20 mins.
7. When meat become done add boiled potatoes, cumin powder, black pepper, hot spice, crushed fried onions and nutmeg and mice powder.
8. Leave it for farther 5-8 mins on low flame till oil starts to appear on the surface.
Serving:
Pour the delicious spicy beef and potato stew on a beautiful dish and sprinkle some coriander leaves on it and serve this hot stew with bread, naan or
fried rice
.