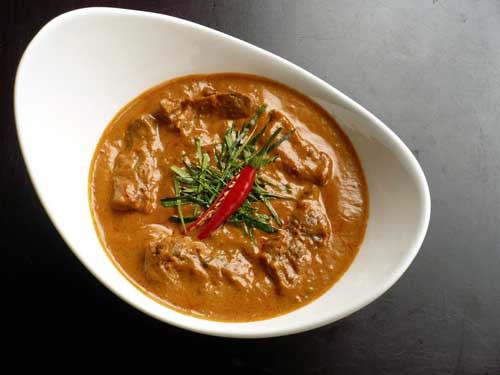 Preparation time: 30 mins. | Serves 2-4 persons
This is the Thai version of the Beef Panang Curry Recipe, prepared with panang curry paste and coconut milk. This is also prepared in Malaysian style with little difference in the recipe. It is best to serve with fresh garlic rice.
Ingredients:
For Panang Curry Paste:
1 large dry red pepper (seeds removed and soaked in water for 10 mins.)
1 tbsp toasted coriander seeds
2 stalks of lemon grass (trimmed and sliced)
2 tbsp cilantro stems with a few leaves (chopped)
1 tsp lime zest
8-10 cloves garlic
2 tbsp ginger (chopped)
2 shallots (chopped)
3-4 green chilies
For Curry:
2 tbsp oil
5 tbsp panang curry paste
1 lb boneless beef (cooked with salt and water)
¼ cup coconut milk
2 tbsp toasted peanuts
Salt To taste
6-8 basil leaves
3-4 Thai red chilies (cut into strips)
1 tbsp brown sugar or palm sugar
1 tsp fish sauce
Procedure:
1. To prepare panang curry paste, in the food processor add all the ingredients and process well. If necessary, add a few tsp of water. This is your panang curry paste you can even use it in making any Thai curry recipes.
2. In a saucepan, heat oil and cook panang curry paste for 2-3 mins. until red oil appears on top.
3. Then add cooked beef, peanuts, salt, sugar, fish sauce, basil leaves, and Thai red chilies and cook for 3-4 mins. more until well combined.
4. Now add coconut milk and simmer for 10 mins. Adjust the seasoning of salt and sugar in between.
5. Serve the hot Beef Panang Curry with garlic rice.