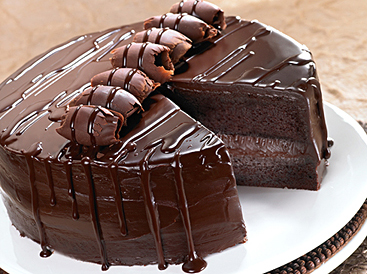 Preparation time : 60 min. | Serves 6-8 persons
This moist chocolate cake recipe is more like a brownie having fudge like flavor and texture. The cake can me made more moist with any chocolate sauce not only from top but also from inside by dividing cake into layers.
Ingredients:
2 cup sugar
1¾ cup all-purpose flour
¾ cup cocoa powder
1½ tsp baking powder
1½ tsp baking soda
1 tsp salt
2 egg
1 cup milk
½ cup vegetable oil
2 tsp vanilla extract
1 cup boiling water
Procedure:
1. Preheat oven to 350°F.
2. Sift together dry ingredients including sugar, flour, cocoa, baking powder, baking soda and salt in large bowl.
3. Add eggs, milk, oil and vanilla to the dry mixture and beat on medium speed just to mix them well.
4. Now add boiling water to make the batter slightly thin and mix it well so that no lumps would be there.
5. Pour the batter into the suitable greased baking pan and bake up to 35 mins or until knife inserted comes out clean.
6. When the cake is ready cool it to room temperature then coat the whole cake with chocolate fudge or chocolate sauce.
photo source : 1